Event Organizers can use Time Slot Ticketing to both increase revenue and increase safety for attendees during COVID-19. Even if you don't think COVID-19 reduced capacity measures will be in place by the time your event occurs – it's a good idea to consider it as a Plan B.
What is Time Slot Ticketing?
Time Slot Ticketing means you're splitting up your all-day event into pre-determined sessions, or time slots. Attendees pick which time slot they want to attend, and purchase a ticket online or at the box officer for that specific time slot.
This allows you to "sell out" your event's max capacity multiple times throughout the day. After all, the majority of your attendees most likely are not showing up as soon as gates open and staying all day until the gates close. Your crowds typically ebb and flow (for most events) throughout the day. Families with kids may show up early and leave after lunch, Millenials and partiers may not show up until the evening.
Why Would I Need Time Slot Ticketing?
With COVID-19, for many events, Time Slot Ticketing is a must. If your state's Governor reduces live event capacity by 75% or 50% so that more spacing and social distancing can happen – that is a huge drain on your maximum potential ticket sale revenue!
Many events cannot even pay for their base expenses if capacity is reduced by 25% or 50%. This is where Time Slot Ticketing comes in.
Here's an Example
Let's say you have a Brew Festival. In the past, your event started at 11am and went until midnight. A ticket allowed attendees to arrive and leave whenever they wanted. The max capacity for your event location is 5,000 people pre-covid.
Now your state Governor has forced a mandate to reduce live event capacity by 50%. So you can only sell 2,500 tickets this year.
So you employ Time Slot Ticketing as follows:
Ticket Tier #1 | 11:00 AM – 3:00 PM
Ticket Tier #2 | 3:45 PM – 7:45 PM
Ticket Tier #3 | 8:30 PM – 12:00 AM
You now can sellout EACH time slot with the 2,500 reduced capacity. But since you're now able to sellout your 2,500 reduced capacity 3 times in the same day you can sell a maximum of 7,500 tickets for your event and actually increase your gross revenues by 50% this year.
Tips for Time Slot Ticketing
Make sure you leave enough time in between time slots for your team to clear everyone out of the event and do any necessary cleaning or sanitizing.
If your event is not fully enclosed – you still can use Time Slot Ticketing. Just give out colored bracelets to attendees as they enter. Each time slot should be a different colored bracelet. This way, your security during the later time slots can see any past time slot attendees still hanging around and remind them they need to head home.
PRICING TIP: You can maximize revenue even more by pricing your most desired time slots at a higher price. If you know the 8:30 PM – 12:00 AM time slot will sell out quickest and is the most popular, bump the price of that time slot up by $5 or $10 extra. You can also lower pricing for the less desirable time slots such as your morning session.
Die-hard fans are going to buy MORE THAN ONE time slot ticket. That's ok, your attendees who want to stay ALL DAY long still can.
Many event organizers are utilizing Time Slot Ticketing this year but also adding an additional day to their festival to increase capacity even further.
Pick the Right Ticketing Platform
It's important that you pick a ticketing platform that is built for time slot ticketing and has a fool-proof, easy to use interface so fans don't get confused or frustrated. Many ticketing platforms don't have a great way to solve for this – and if your attendees are forced to use a confusing or clunky solution they're not going to be happy.
Luckily, Afton Tickets has everything you need for Time Slot Ticketing. With our grouped events feature, attendees select the Date they want to attend (if a multi-day event) and then choose from the available Time Slots for that specific day.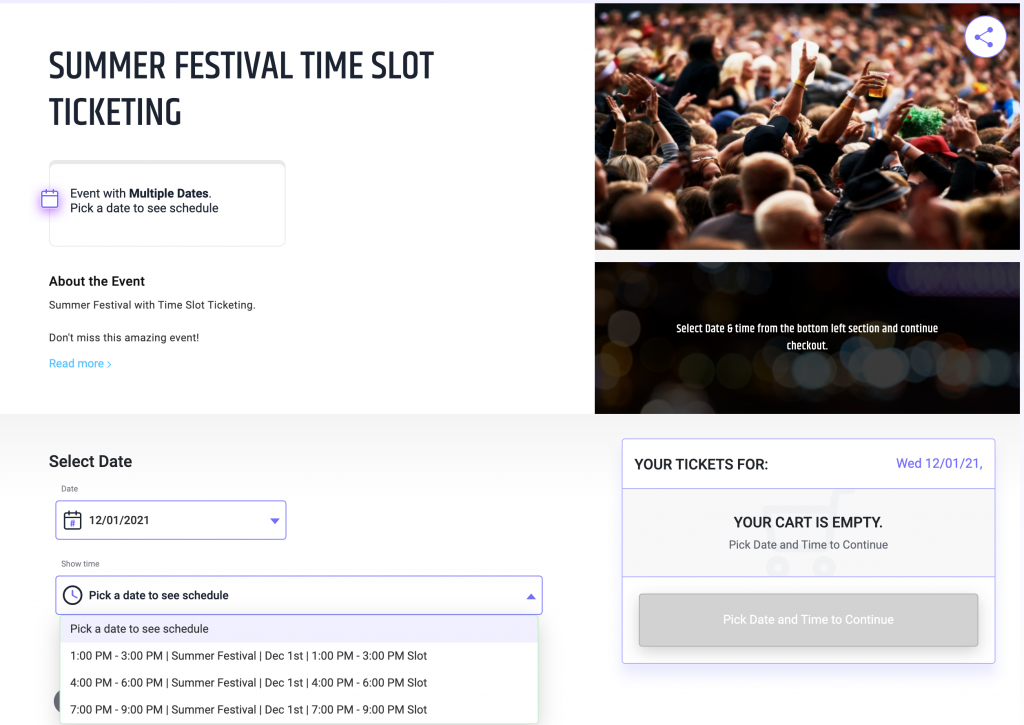 Attendees then can see the Ticket Tiers and time slots for that specific day. With our system, you can clearly explain in the Ticket Tier name and Ticket Tier Description itself how time slot ticketing works so attendees know when to arrive.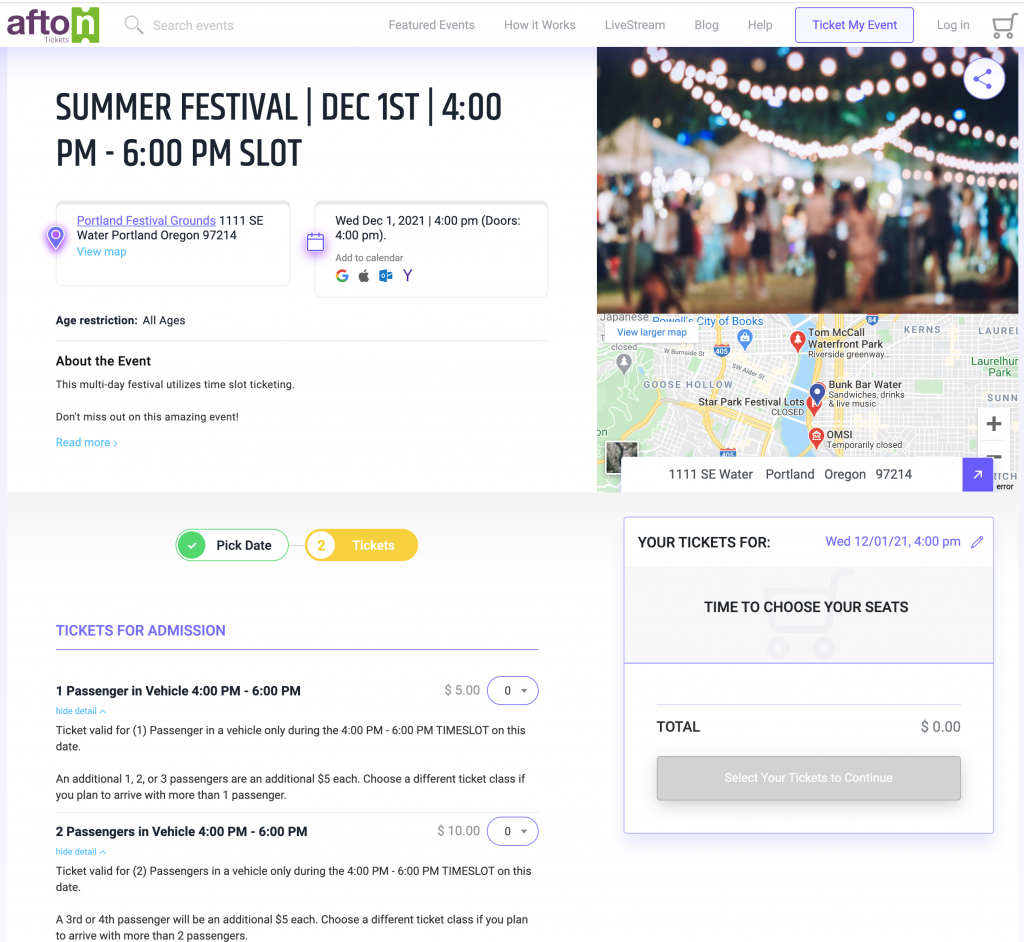 Our laser scanners have custom valid-scan in dates/times so that the system knows when someone brings a ticket from the wrong time slot. You can then choose to turn them away so they can come back during their original time slot, or if ever needed you can override scan to make an exception and let them in.
Interested in scheduling a Demo of the Afton Tickets platform and to gain more insight into how Time Slot Ticketing can work for you? If so, Click Here to Book a Demo.
Time to Start Planning!
We hope you can integrate Time Slot Ticketing into your events for 2021 and beyond. Even after events resume as normal with full capacity, Time Slot Ticketing is a great way to maximize your revenues if your event ever "sells out" too easily and you want to be able to sell more tickets throughout the day.