If we take the example of the thousands of people who have become successful at selling live stream tickets, you can understand that it is vital that you know how to drive sales. And due to the massive increase in people working from home, live streaming is even more popular these days.
While it can be difficult to go from one live stream event to the next and see a substantial increase in sales, it's definitely possible if you know how to.
You want to make sure that your ticket sales are consistent with the concert schedule so that you can maximize the sales that you'll bring in. There are some ways to increase your ticket sales and drive more profit into your business, and that's exactly what we'll find out today.
A report by Optimonster revealed that, in 2019, there were 1.92 billion digital buyers. In addition, eCommerce sales counted as much as 14.2% of retail purchases in the world. Also, 27% of men purchase tickets for live streaming events like concerts, and 26% of women.
With over 25% of men and women purchasing their tickets online, there's definitely lots of potential in ticket sales. For this reason, make sure to read until the end to find out all the tips more in-depth.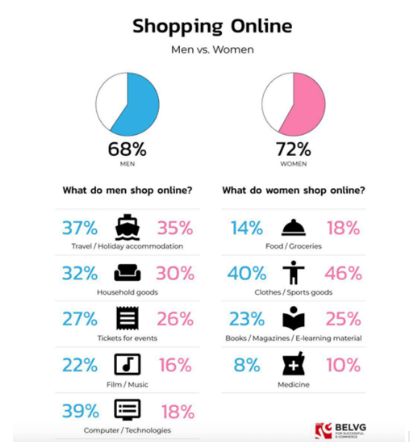 Get the Most Out of Social Media Publicity
Social media is the future of ticket sales and you'll be able to produce much more profit using social media accounts. For instance, when creating a Facebook ad, you'll be able to target a specific audience in a specific area, which could be the event location.
Another great example is to use YouTube ads. In fact, advertising a marketing video on music videos to the audience located near the live streaming event will allow you to increase interest and, therefore, sales.
Moreover, shifting your customer service to social media is a fantastic way to reply to their inquiries more rapidly and, above all, to get sales more quickly. You'll be able to take care of your leads the right way, and this means that they'll trust your business and will tend to buy your tickets more easily.
Let's dig deeper into social media publicity to advertise and improve your ticket sales.
Create an eye-catching Facebook – event
With the number of people using Facebook and participating in events, it has become almost necessary to create an attractive Facebook event. These events can be created with just a few clicks and are great ways for companies to advertise events and increase ticket sales.
You can also create an appealing Facebook event for a promotion or a special event such as New Year's Eve or the school holidays. Of course, once you create an appealing Facebook event, it is important that you include your event information to encourage people to join your event.
In addition to information about the event, you should also include contact information such as your company's name, address of the event, and website. People usually like to join Facebook events so they can get notifications about your upcoming events.
Make sure you make invite lists and share your event with everyone
On top of organizing events, making invite lists and sharing your events with everyone is an incredible way to attract more people. In fact, the more you share your events, the more people you'll reach, and the bigger chances you'll have to increase your ticket sales.
A great way to use invite lists is to hire public relations to reach even more people. This will not only benefit your business but also benefit the live streaming event since many more people will join.
Don't forget to post regularly about your event on every social media including a direct option for buying tickets to every post
If there is one thing that people can't miss nowadays, it's certainly a notification on their phone. For this reason, posting regularly about your live streaming event on social media as well as in the Facebook event will boost your sales.
Don't forget to add a call-to-action to make the purchase easier for the user. For instance, using the "swipe up" on Instagram, or the website link on the Facebook event will certainly make things easier and more profitable.
Videos, videos, videos! – Create a teaser video, video from past events, attendee testimonials, etc
The internet is all about videos nowadays, and that's exactly the reason why you should create teasers using past events. Videos are appealing, make people want to go to that event more than simple descriptions, and are nice to watch.

An article on Forbes shared that Mark Zuckerberg, founder and CEO of Facebook, reported, at the end of 2016, that 500 million people watched Facebook videos every single day.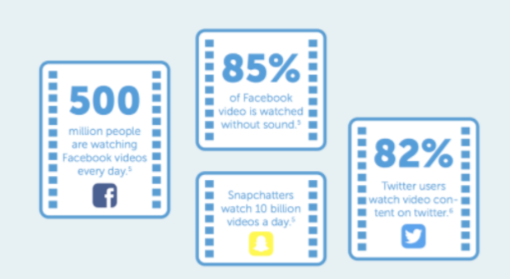 Pictures speak a thousand words, and you'll definitely get more ticket sales creating appealing and exciting videos on social media.
Organize contests or giveaway in order to get more shares
Organizing contests and giveaways is an excellent way to spice up your marketing campaign. For example, creating a giveaway post on Instagram asking people to follow you and comment on your post will increase significantly your visibility and drive more sales.
In addition, you'll make a happy winner and you'll be able to reach a wider audience in the future with more followers. If you're looking to increase your ticket sales, organizing contests and giveaways is the right way to do it.
Don't underestimate social media ads
As mentioned previously, social media ads are an incredible way to target a specific audience at a specific location and, therefore, reach more leads and increase your sales.
Never underestimate social media ads. In fact, they can be incredibly powerful to gain visibility online, get more interest from people online, and ultimately sell more tickets for your live streaming events.
A report by Smart Insights found out that 50% of users aged 16 to 24 years old research products on social media first. Additionally, 29% of people aged 25 to 34 years old discover brands or products on social media.
Needless to say, underestimating social media ads is a big mistake and it can actually drive a lot more sales than many might think.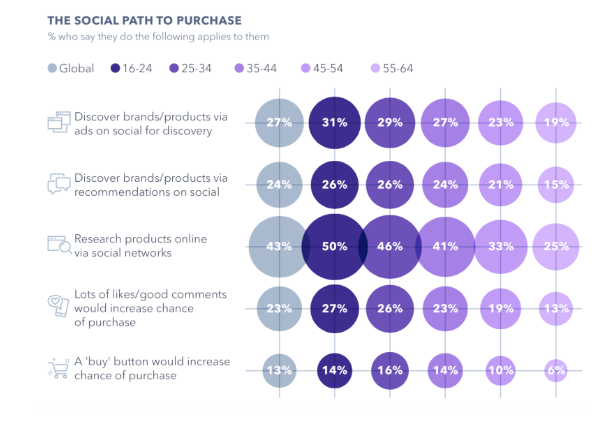 Engage your performers and speakers
Engaging your performers and speakers is an essential part of the marketing strategy when selling tickets for live stream events. In fact, people want to see their favorite artist, speaker, DJ, or singer talking on a video or posting on a social media event.
This way, you'll be able to reach out to their fans, get more people interested, and also to impress participants. Let's take the example of a concert with a famous singer performing. Posting a video about that event can not only make the event go viral but also reach out to a tremendously bigger audience.
Live streaming and online events require extra efforts towards engaging the audience since you can't see their reactions or interact with them in person. That's why you should make sure you use interactive web conferencing tools with the features such as whiteboards, surveys or even tests to make the most of live streaming.
In short, if you want to elevate your marketing campaign on social media and on your website, engaging your performers and speakers is an excellent way to drive more ticket sales.
Reach out to everyone on your personal and social network directly
As you understood by now, the more people you reach out to the higher the number of tickets you'll sell. Contacting everyone on your personal network is more of an advantage compared to online ads.
In fact, your network already knows you personally and, therefore, trust you when it comes to quality. They won't need to check the business online to see the reputation, the line-up of the live streaming event, and the price.
Another efficient and fast way to reach out to everyone is to use Facebook events. From that event, you'll be able to invite all your friends in a few clicks, and this will certainly drive a few sales which is always easy and profitable.
Partner up with relevant vendors and companies who can benefit from your event
This is another important and great way to drive more sales to your live streaming events. In fact, whether you have a new or popular ticket selling platform, partnering up with relevant vendors will definitely help general more ticket sales.
Let's take the example of a show on Broadway. Your company might have lots of experience selling tickets and many trustworthy reviews. However, if you partner with an official vendor like Broadway Events on Facebook will certainly help promote your website, social media, and ultimately drive more sales.
There is no easier way to collaborate with a business to drive more sales on both social media and on their website. Lastly, working with a business will help you grow and is an effective way to make more sales.
Utilize your existing channels and websites by offering a direct purchase
While it may not be necessary for search engines to make your website or blog offer a direct purchase on social media, it is wise to consider this option to get more leads. After all, Google is the number one online research tool and using will certainly benefit your business and event.
For example, if a user had been looking for information about a particular event, they could be easily redirected to another event if advertised properly.
You can then include a direct purchase link or an advertisement block on your website or another channel. If they click on it, you will not only get more leads for that live streaming event but also show them that your business has lots of other ones that can interest them.
When you build a website, an efficient way to drive more sales is to rank your local business on Google. Imagine advertising a live streaming event in New York City and you want to attract local leads. Ranking your website in New York City will definitely help to get more leads and to sell more tickets.
This type of strategy has been effective for many companies and can definitely drive more sales easily. It may seem like a hassle to offer a direct purchase on social media, but done the right way and if it's interesting enough, you may find that it's the best thing you could've done. If you can't think of anything else to do, consider offering a direct purchase on social media, and reap the rewards!
Do a last-minute ticket sales
The last-minute sale is one of the best ways to promote your live streaming event and drive more online sales. The first thing that you need to do when you want to increase ticket sales is to analyze your competitors. In fact, you'll need to see if there are other companies who will be selling the live streaming event ticket that you're selling.
This way, you'll be able to come up with an appealing price for your last-minute sales, and that's exactly what leads want nowadays.
The last-minute sale can be very profitable if you offer a good price and cross the previous one, in order for your leads to see the amount of money they're saving. You can get the highest amount of money at this time because there are so many people trying to save some cash and that still want to join the event.
Furthermore, it's a great way to sell tickets if you think you won't be able to sell your event out. For instance, if your event can accommodate 10,000 people and you only sold 2,000 tickets, a last-minute ticket sale will allow you to reach out to more participants and sell more easily.
If you want to make money fast and easy, you should be using the do a last-minute sale. This is one of the best techniques that can be used to get some good income for the money that you are spending. When there are lots of people selling things at a very low price and if you have the right business tools, you can make some good profits on this type of deal. You just need to know the right way to do the job.
Effective Ways to Drive Ticket Sales for Your Next Live Streaming Event- The Bottom Line
These were the most essential and efficient steps to get more leads, drive more ticket sales, and promote your live streaming event the right way.
From creating an appealing Facebook event, engaging performers, and making creative videos to impress your audience, these are important points. In addition, don't forget that partnering up with vendors will refer your business to their audience, and creating last-minute ticket sales will drive more ticket sales.
Whether you're just starting out now or have an existing successful business, these steps are applicable for you.